Who We Are
The Native American Community Board (NACB) was incorporated as a non-profit (501)(c)(3) organization in 1985 by a concerned and well-informed group of Native Americans living on or near the Yankton Sioux Indian Reservation in South Dakota.
The Native American Women's Health Education Resource Center (NAWHERC)--which provides direct services to Native women and families in South Dakota and advocates for Native women at the community, national, and international levels to protect our reproductive health and rights--is a project of the NACB (the NACB is the governing board). NAWHERC's activities range from community education to preserve our culture, campaigns to end violence against Indigenous women, coalition building to fight for our reproductive justice, and environmental justice.
Since its founding in 1988, NAWHERC has become the leading pathfinder in the country in addressing Indigenous women's reproductive health and justice issues while working to preserve and protect our culture. NACB and NAWHERC serve reservation-based Indigenous women at the local, national, and international levels.
Go Fund Me Campaign
The Resource Center has kicked off its first Gofundme campaign at the begining of November 2015. Please visit the page and donate if you can, and share the page on social media.
What to do when you are raped graphic novel released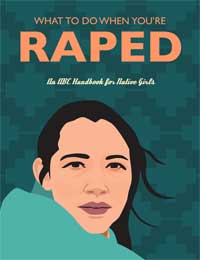 The Native American Community Board in Lake Andes, South Dakota has released a new graphic novel written and illustrated by Lucy Bonner entitled 'What to do when you're RAPED: An ABC Handbook for Native Girls' (a pdf version can be viewed here)
iwrw
The Resource Center sends out a bi-weekly newsletter called the Indigenous Women's Reproductive Watch (IWRW). Each issue features an article on a health topic relevant to Native communities and women's reproductive health.
Examples of topics covered by the IWRW:
Caffeine and osteoporosis
Endocrine disruptors
HPV and ovarian cancer
Gardisil
Tips for a healthier lifestyle
To subscribe, send an email to This email address is being protected from spambots. You need JavaScript enabled to view it. and put "subscribe" in the subject line.
Board of Directors

Katrina Cantrell, Shoshone
Chairperson
Dr. Mia Luluqusien, Ilocano/Heilstuk
Vice-Chairperson
Kim Mettler-Chase, Three Affiliated Tribes (Mandan)
Secretary/Treasurer
Anne White Hat, Rosebud Sioux

Charon Asetoyer, Comanche
CEO
Florence Hare, Ihanktonwan Dakota

Founding Directors

Clarence Rockboy, Yankton Sioux
Charon Asetoyer, Comanche
Jackie R. Rouse, Yankton Sioux
DTR Donations
Help us keep Dakota Talk Radio on the FM airwaves!
---