Reproductive Justice Reports & Roundtables
Indigenous Women's Dialogue - Roundtable Report on the Accessibility of Plan B as an Over The Counter (OTC) Within Indian Health Service - February 2012

Available Online


A Survey of the Availability of Plan B and Emergency Contraceptives within Indian Health Service. 2008. Available online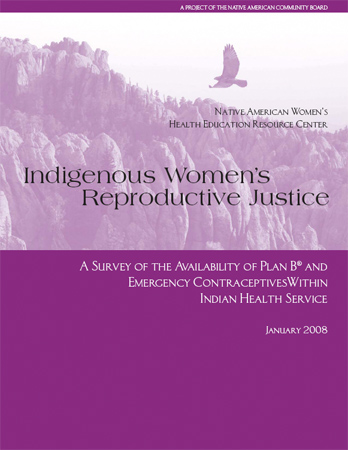 Over the years Indian Health Service has denied Native women the same options of birth control that is afforded to mainstream women. IHS has provided a narrow set of options that in many cases has forced Native women into sterilization that would not have done so if other options were available. The lack of standardized policies that govern reproductive services within this Federal system has allowed this history of Human Rights abuses to occur. It has denied Native women services that other women have access to. As in the case of emergency contraceptives this situation has created an environment that forces women to carry unplanned and unwanted pregnancies to term. This situation has occurred in history during Hitler's years of control in Germany, when women were raped and forced to have babies for the Third Reich and when Black women in the US were raped by slave masters to produce more children to be forced into slavery. Forcing women to have children against their will is an act of slavery and denying them health care and services to terminate a pregnancy under these circumstances are truly Human Rights violations. This survey examines the access and inconsistent application of emergency contraceptives within the Indian Health Service system.
---
Roundtable Report on the Availability of Plan B and Emergency Contraceptives within Indian Health Service. January 2009. Available online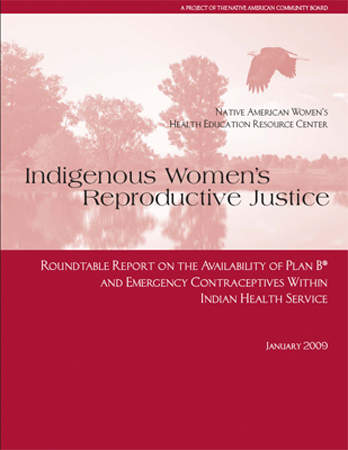 The Indian Health Service (IHS) clinical manual states that "all FDA-approved contraceptive devices should be available" to its patients.9 However, despite the fact that Plan B® has been FDA-approved for nearly a decade and ruled safe for over-the-counter use since 2006, the Resource Center's January 2008 study A Survey of the Availability of Plan B® and Emergency Contraceptives Within Indian Health Service shows that EC and Plan B® are still not adequately available at Indian Heath Service facilities.10 To date, a mere 10% of surveyed IHS pharmacies have Plan B® available OTC. Plan B® was not available–even with a prescription–at 50% of the pharmacies in the study. At 37.5% of these pharmacies, the older Yuzpe regimen was offered instead; the remaining 12.5% of IHS facilities still had no form of EC available at all.
---
A Survey of Sexual Assault Policies and Protocols within Indian Health Service Emergency Rooms. 2005. Available online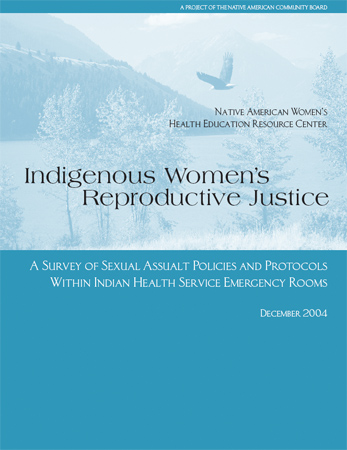 It is important to understand that for most Native American women private health care is unaffordable, so the Indian Health Service serves as our primary health care provider. For Native American people health care is not a privilege, it is a right. It is a right granted in exchange for land seized and is defined by treaties written by the United States Government. The staff of the Native American Women's Health Education Resource Center is known for taking on the role of activist in order to help Native American women receive better and improved health care. The Resource Center has put together this briefing paper on emergency room services and policies for Native American women who go to an Indian Health Service facility for assistance after a rape or sexual assault. The findings of this survey are alarming and document a substantial gap in services for Native American women.
---
Roundtable Report on Sexual Assault Policies and Protocols within Indian Health Service Emergency Rooms. 2005. Available online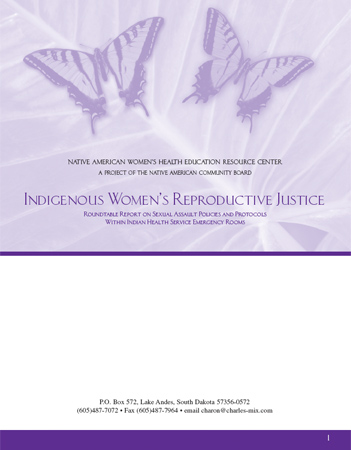 In October 2002, the Native American Women's Health Education Resource Center (NAWHERC) released findings that the Indian Health Service (IHS) was not providing lawful abortion services under the Hyde Amendment to Native American women. The findings underscored the fact that Native American women's health care and rights are in jeopardy. In 2003, representatives from the U.S. and Canada gathered for a Roundtable on access to abortion and provided recommendations for action at the national, international, and community levels. Since then, NAWHERC has partnered with the National Abortion Federation (NAF), the American Indian Law Alliance, the American Civil Liberties Union (ACLU), Cangleska Inc., the Center for Reproductive Rights and other advocacy and women's health organizations to ensure that treaty-negotiated women's reproductive health care through IHS remain accessible to Native American women.
---
#001 Indigenous Women's Reproductive Rights: The Indian Health Service and Its Inconsistent Application of the Hyde Amendment
Traditional Native American customs left the issue of abortion in the hands of the woman facing the choice; the decision was hers alone and was not, as it is today, imposed upon by impersonal governmental policy. Although illegal abortions can be extremely dangerous due to the lack of proper and sterilized equipment, abortions were not legalized in the United States until 1973. At the time, a federal account was specified in order to fund abortions for women on Medicaid or those who received health care through IHS. In 1976, the Hyde Amendment was established, and limited federal funding to abortions where a woman's life was threatened physically. A 1997 revision to the Hyde Amendment allowed financial aid in cases where rape or incest caused the pregnancy. The report goes on to discuss individual states' ability to determine Medicaid policies and thus, the ability to expand or restrict funding for abortions. Regardless of whether a state is able to expand its Medicare policy, Native American women are still constrained by the Hyde Amendment. Given their rights under the Hyde Act, however, IHS abortion policy in practice is yet more limiting. A survey conducted by Native American Women's Health Education Resource Center found that 85% of the IHS units surveyed were "noncompliant with official IHS abortion policy" and 62% stated that they do not provide abortions even in the case of life endangerment. Although IHS Chief Medical Officer permits the use of Mifeprex (RU-486, the abortion pill), not one of the units surveyed carried the drug in stock. The report includes a brief description of RU-486 and ends with a plea to IHS and other organizations to at least provide the health care guaranteed to women by the constitution and the Hyde Amendment.
---
#002 Indigenous Women's Reproductive Rights: Roundtable Report on Access to Abortion Services through the Indian Health Service under the Hyde Amendment
The state of South Dakota has been known to be conservative, and it is extremely difficult for a woman to obtain abortion services here. In fact, only one private abortion clinic, located in Sioux Falls, exists in the entire state. Indian Health Service, under the directive of the Department of Health and Human Services, is required to follow federal abortion policy that permits federal financial aid in cases of rape, incest, or life endangerment; they have failed to provide these guaranteed services in the past. Since 1981, a mere twenty-five abortions have been performed by the 352 IHS units established nationwide, a figure that is hugely disproportionate to the number of rapes reported by Native American populations. The issues covered in this report include the massive turnover rates of physicians at IHS, a phenomenon that results in a sexist, cultural, and religious bias. These traveling doctors have few connections with the communities in which they work, and their impersonal outlook helps muddle the question of whether a patient's case fulfils the requirement of rape, incest, or life endangerment needed to obtain the necessary abortion. The report includes recommendations for involving the Native American community in actions for change and ways to work specifically with, as well as potential challenges in working with, Native American populations. An outline guides the reader through the group's strategy for approaching individual IHS units, and finally, moving on to an international scale.
---
#419 The Current Status of Indian Health Services Reproductive Health Care: Report #1: A Focus Group Examining the Indian Health Service's Reproductive Health Care for Native American Women in the Aberdeen Area
This focus group study featured eight women, between ages 18-37, from six different Lakota and Dakota nations, who used IHS as their primary health care providers. The purpose of the study was "to bring awareness to IHS's present delivery of services to Native American women," to examine IHS policy and protocol, and to see if women who receive care there felt well informed of their condition, medication, and capable of administering to themselves afterwards. A study such as this also helps initiate formal dialogue between IHS and their patients. The report includes a brief history of IHS, funding, and an echo of the IHS mission statement. Statistics comparing the health of Native Americans with all other races indicates a much lower health status. Many women questioned mentioned the lack of information presented to them during their hospital visit. The physicians seem to have no interest in educating their patients about short-long term effects of various RTIs or prevention methods, and this type of attitude leads to women making uninformed decisions about the birth control device appropriate for them. Instead, they often report feeling pressured to use certain kinds of contraceptives, particularly long-term types. Even more shocking is the fact that the men and women these patients see are sometimes not physicians at all but practicing PAs or fraudulent doctors not in good standing with their certification board. IHS also has a history of severely violating their oath of confidentiality to the point where pregnant women delay seeking prenatal care in order to delay informing the public of the news of their pregnancy. The report includes a review of IHS health care practices and a discussion of the implications of the focus group's dialogue.
---
#003 Young Native American Women's Knowledge of Reproductive Tract Infections: Report #2: A Focus Report Examining the Reproductive Health Awareness of Young Native American Women in the Aberdeen Area
Written between June-July in 1999, this report examines the level to which young Native American women in the Aberdeen area have been educated on the topic of common reproductive tract infections. The Resource Center has been concerned by the high incidence of RTIs reported in the communities, and, in the process of this report, conducted a focus group discussion with 27 young women between the ages of 14-19 years from seven different Lakota and Dakota nations. The intent of the discussion was to empower the girls' voices through publication, thus allowing their words to reach school officials, counselors, and policy makers, as well as directly affecting the direction of the Resource Center's educational programs' curriculum. The report includes a brief explanation of RTIs and a paragraph on the history of sexual education policy at the area schools. The listed questions were put to the girls in a near survey style, and their responses are reported as quotes. The study found that there was little clarity about the terms RTIs, STDs, and even HIV/AIDS due to the lack of effective or consistent sex-education in schools. Group leaders also recorded the girls' primary sources of information and their suggestions for improving sex education curricula. The discussion placed a clear emphasis on culturally specific and appropriate health education, and recommendations include proposals for involving the community and schools in future programs.
---
#414. The Dakota Roundtable: A Report on the Status of Native American Youth in the Aberdeen Area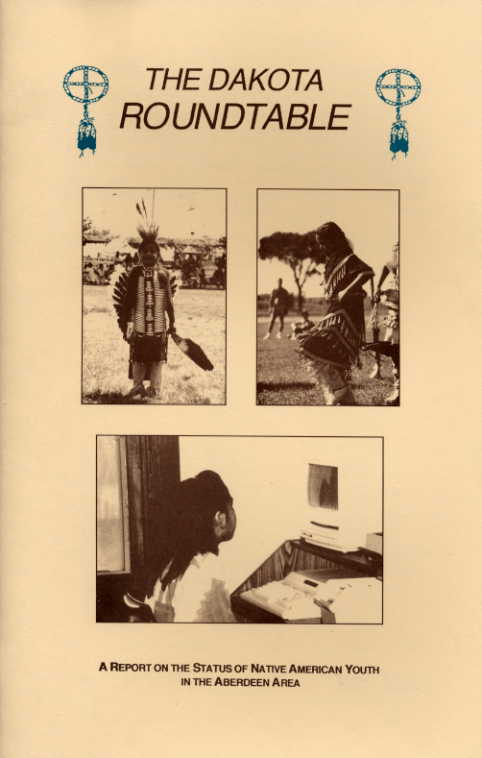 The Dakota Roundtable was part of the Native American Women's Leadership Development Program initiated by Native American Women's Health Education Resource Center. In May of 1993 twenty-eight representatives from Lakota, Dakota, Omaha, and other nations in the states of South Dakota, North Dakota, Iowa, and Nebraska met to discuss the unrealized health needs within their communities. The committee's goals were to identify and develop recommendations for the existing issues in their communities and to improve partnerships and policy-making strategies; they also intended to promote political activism, creative problem-solving skills, and leadership roles among young women. To better identify specific needs of the community, the group was divided into three sections defined by children's developmental stages. The first group focused on ages 0-5 yrs. and discussed matters such as a mother's ability to access health care resources, substance abuse and its consequences, parenting skills, teen pregnancies and family planning programs, and the presence of violence in the household. The next group battled, through debate, concerns for the 6-12 age group such as domestic violence, physical health basics, child-care and parenting, the definition of health as put forth by indigenous people, and the lasting effects of colonialism. The final group discussed the health of children from ages 13-21 and the pressures of their lives, such as pregnancies, drug abuse, violence, and suicide. The recommendations made by each assembly are recorded at the end of the report.
---
#414A. Dakota Roundtable II: A Report on the Status of Native American Women in the Aberdeen Area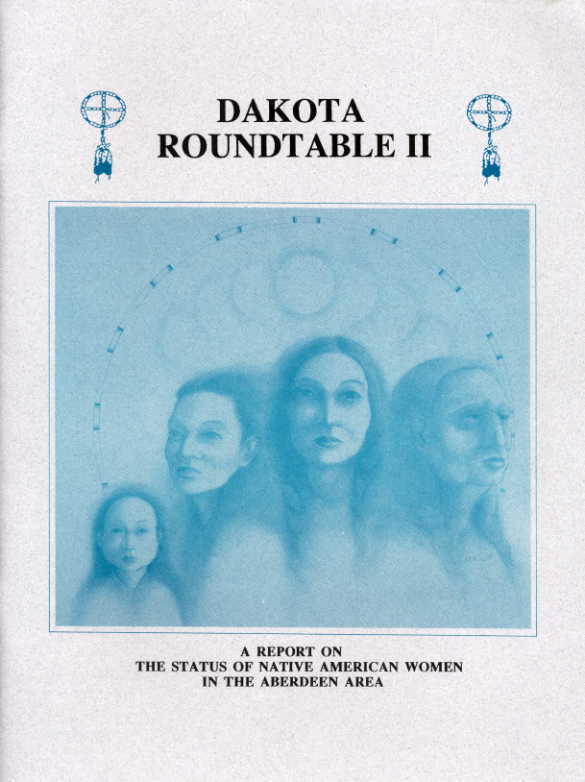 The Dakota Roundtable II was held in Sioux Falls in September of 1994 and was intended as a forum, a safe environment, in which participants could openly share their experiences as Native American women. The meeting also provided an opportunity for organizations to build partnerships, develop strategies to maneuver the issues discussed into the policy-making domain, and to advance leadership roles for women in the community. The assembly divided into three sections to discuss Health Issues Facing a Native American Woman, the Traditional Ways of Being a Native American Woman, and Violence and Abuse Issues. The first topic included concerns such as the state of existing health and medical programs, diseases such as diabetes that are prevalent in the race, and other health issues such as reproductive rights, menopause, and domestic violence. This group also included a brief section on medical attitudes and unethical research practiced on Native American women. The second section recorded their thoughts in a unique memoir style, as accounts told by participants. The women attempted to define the meaning of "traditional Indian," and spoke of the role of and importance of language, culture, and historical names and labels. They further discussed elitism and class-ism and the place of tradition within this imposed structure. Spurred by the fact that although Native Americans only make up 6.9% of the population in South Dakota nearly 50% of all domestic abuse reports come from Native American households, the final group focused on spousal violence and "formalized, institutionalized abuse" by the community. In addition, they wrote of the lack of recognition for a woman's work, lack of leadership roles for women, discrimination in public schools, and a variety of issues at the workplace.
---
#414B. Dakota Roundtable III: A Report on the Status of Young Native American Women in the Aberdeen Area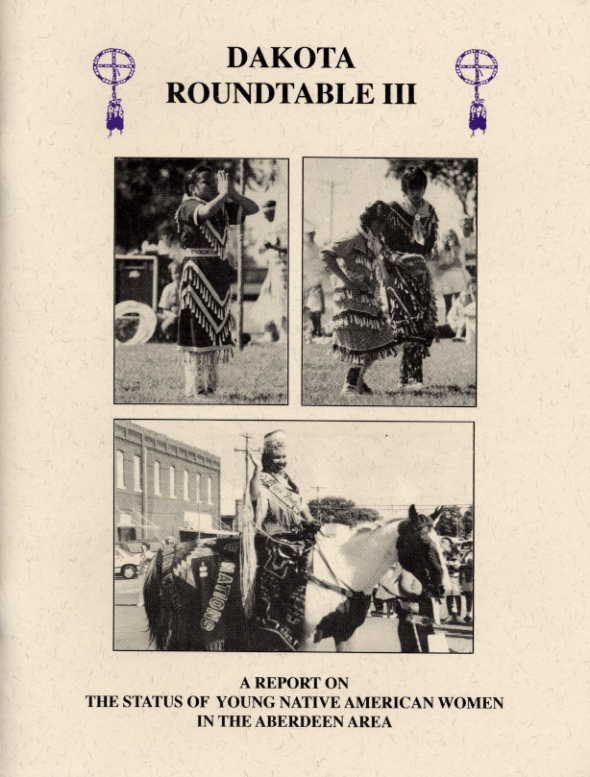 The third in its series, the Dakota Roundtable III was held in Sioux Falls in April 1996. Organized a bit differently from the previous ones, this one featured a forum for sixteen girls, age 12-19, from the tribes of Crow Creek, Lower Brule, Rosebud, Santee, Sisseton, Wahpeton, and Yankton. Before splitting into smaller groups, the girls spoke in an open dialogue of the difficulties they have perceived in their daily lives. While the younger girls listed issues such as prejudice, ignorance among their peers about their culture, and smoking and drugs, the older girls went on to mention the complexities of being a single parent with little financial or emotional support from a spouse, and the pressure to succeed put forth by one's family as opposed to the stereotyped roles imposed on them by society. One group discussed the effects of drugs and alcohol on female teens, including relationships with drinking parents and friends, personal views and experiences with drinking, tragedies, violence, and reasons for indulging in drugs. A second group spoke of issues faced by teen mothers, such as personal and familial responses to the event, drugs taken during pregnancy, financial instability, housing, and childcare. The final topics discussed incorporated the issues of racism and prejudice. The report relates points of racism experienced by the team itself while stationed in Sioux Falls for the conference as well as the anecdotes told by the participating girls. They noted the effects of relationships within their families on their own personal outlook, attitudes on interracial dating, and power interplay between the races prior to the introduction of violence into any situation. A 1994 survey on Native American sexual health revealed startling results that are discernible in this study as well. For example, a massive 92% of sexually active girls reported being forced into sexual intercourse on a date, and 67% have been pregnant by the end of their senior year in high school. Within the age group 15-19, 50.6 out 100 girls have one or more children.
---
#403 The Impact of Norplant in the Native American Community
Norplant became available in 1991 in the United States and within a year had cornered 12% of the U.S. contraceptive market. Written in 1992, this report recognizes the potential for social control present in the method of delivery of Norplant and attempts to differentiate for the reader the issues of reproductive choice and population control. It includes a background of the drug and a summary of concerns, such as the lack of information available that pertains directly to Native Americans and their limited access to Norplant removals. Although Norplant is extremely effective compared to other hormonal contraceptives, several side effects, such as decreased efficacy in women of greater weights and prolonged menstrual cycles, make it an inappropriate choice for many women. Add to this the fact that the drug is downright dangerous for women with diabetes and blood pressure problems, and it becomes a particular threat to Native American women, among whom the above-mentioned illnesses are relatively common. Pamphlets included with Norplant packages fail to emphasize the gravity of the situation. Patients are given little counseling and are told to watch a one-sided video provided by the manufacturing company to assuage their fears. Furthermore, there have been no long-term studies on the effects of Norplant, particularly on selective sections of the population such as teenagers, whose bodies may react differently to an extended use of the drug. Several foreign research studies have been conducted but seem inconsistent and untrustworthy due to a lack of regulation and controlled environment. Indian Health Services (IHS) still has no formal policy regarding Norplant; welfare policy permits financial aid for Norplant insertion but not for early removal unless the reason is a serious medical reaction to the product. The report goes on to discuss involuntary use of long-term contraceptives for parents accused of drug or child abuse; it is an intrusive punishment as well as a violation of a person's right to procreate and to refuse medical treatment. A conclusion and recommendations for developing an effective IHS policy for Norplant and for restructuring of Title 19 welfare policy to include removal costs within initial fees follows.
---
#405 A Study of the Use of Depo-Provera and Norplant by the Indian Health Service
This report discusses several important aspects of the use of Norplant and Depo-Provera contraceptive devices by the Indian Health Services (IHS). The topics covered include the policy and procedures of IHS, counseling of patients, and the lack of information made available to them. The drugs' failings and effects of lifestyle are also mentioned, as well as the issue of informed consent prior to procedure and the lack of a standardized protocol with a tracking system for patients with Norplant inserts. The report delves into the potential for misusing both drugs for purposes of social control rather than as contraceptives chosen for and by a woman. It cites, as proof, past testing of the drug in an unethical and ineffective manner on women of lower socio-economical means as exemplified by the studies done in Brazil and India. Overviews of both foreign studies are included in the appendix. The report briefly describes the background, basic facts, and chemical processes of the drug, and discusses drawbacks, particularly culturally specific problems such as diabetes, obesity, and the interference of prolonged menstrual cycles with religious ceremonies. It goes on to convey the enormity of the 1970's sterilization abuse by IHS, where 25,000 Native American women were coerced into sterilization through uninformed consent in 1975 alone. More recently, Depo-Provera has been used on severely retarded Native American women with the intention of eliminating their menstrual bleeding altogether for the convenience of their caretakers; the fact that the drug eliminates bleeding completely in only a fraction of the cases remains ignored. Further concerns with IHS treatment of Norplant include its decentralized structure where implant services must be contracted to traveling physicians, leading to limited availability of doctors licensed to remove the insert. High rates of physician turnovers and patient mobility also ensure a lack of consistency at IHS service units. The report also questions the applicability and absolute trustworthiness of a FDS approval.
---
#405a A Review of the Use and Impact of Depo-Provera on Native American Women
Written two years after the 1993 Depo-Provera report, this document studies the drug in more detail than the previous. The information presented in the report was gathered through interviews and questionnaires, a copy of which is included in the appendix; of the forty-two women that were consulted, 88% were Native American and 12% Caucasian. Results are graphed in statistical percentages; graphs tabulate the entire medical process, the information received by the women, and their understanding of the drug and its side effects. The report was conducted in response to concerns about side effects of Depo-Provera and its irreversible, provider-controlled distribution. The side effects include an increased risk of breast cancer with prolonged use, genital abnormalities in cases of fetal and infant exposure, blood clots and higher cholesterol levels, and reduced glucose tolerance. With a history of diabetes in Native American populations, some of these side effects can be debilitating. The survey found that many users were young teenagers at the time of their first injection. Women who started using Depo-Provera at an early age face the added risk of developing advanced osteoporosis by the time they reach their thirties, as well as dealing with irregular periods and a lack of protection from STDs. A brief history mentions past unethical uses of the drug and the potential for coercive practices regarding social control. The report discusses on whom the responsibility for a patient's health ultimately falls and the extent of a physician's role in decisions made by the woman concerning long-term birth control. Recommendations in the conclusion encourage further study on the long-term effects of the drug, particularly on over-weight women, and the development of a culturally sensitive and consistent protocol on the part of the IHS.
---
#414C. SisterSong Native Women's Reproductive Health and Rights Roundtable: Moving Forward the Native Women's Reproductive Rights Agenda
The SisterSong collective is made up of four ethnic groups: African American, Asian American, Latina Americana, and Native American, with four further subgroups within each of those categories. This roundtable report was developed by the Native American women's branch. It begins with a section of thoughts and comments as quoted by the participants at the event. Following this are recommendations for "implementing Native American women's right to knowledge, education, and policy development on reproductive Health and rights" at the individual, family, social, and policy level. Also included are recommendations concerning a woman's ability and right to access reproductive health education, prevention programs, and reliable health services. The report is formatted by subject topic with relevant quotes by participants underneath.
Mission
The Native American Community Board (NACB) works to protect the health and human rights of Indigenous Peoples pertinent to our communities through cultural preservation, education, coalition building, community organizing, reproductive justice, environmental justice, and natural resource protection while working toward safe communities for women and children at the local, national, and international level.