Charon Asetoyer Profiled in Glamour Magazine
August 2008

The article, titled "The Land Where Rapists Walk Free", explores the reasons why Native women are at such risk of sexual violence and why survivors are so frequently denied justice. Lack of resources for law enforcement and health services, confusion over jurisdiction, discrimination in law and practice, and indifference--all these factors play a part. The voices of the Native women who have come forward to speak about these issues send a message of courage and hope that change can and will happen. The article appeared in the August 2008 issue of Glamour magazine.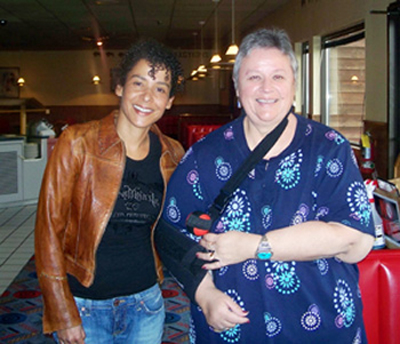 Charon holds a Masters of International Administration and Management along with a Bachelors of Arts in Criminal Justice. She is the Executive Director and founder of the Native American Community Board and the Native American Women's Health Education Resource Center located on the Yankton Sioux Reservation in Lake Andes, South Dakota. She has been a leading pathfinder for the improvement of the community's health and well-being, providing health information, referral services, a women's shelter, transitional housing, reproductive justice, environmental protection, and prevention of sexual assault and domestic violence against Native women and children.
About Marianne Pearl's Global Diary
Two years ago Marianne Pearl, widow of slain Wall Street Journal reporter Daniel Pearl and author of the book, A Mighty Heart, set out on a round-the-globe search for hope and heroes. Marianne teamed up with Glamour magazine to build a collection of profiles of women from around the world who are illustrating women's conditions in the world and who are also embracing their fate to change things around them and to help change the fate of others. In the this installment of her "Global Diary" series, Marianne has profiled Charon Asetoyer (Comanche), a Native American women's health advocate and community activist.